WE ARE LICENSED BY THE
ALABAMA DEPARTMENT
OF POST SECONDARY EDUCATION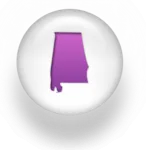 Frequently asked Q & A
What is a Dental Assistant?

Dental Assistants are valued members of today's dental care team. They work with Dentists, dental hygienist, dental office receptionists and dental lab technicians providing dental care to patients. Dental assistants have many tasks, ranging from patient care to record keeping, in a dental office. Their duties vary by state and by the dental offices where they work.


What important qualities comprise an excellent Dental Assistant?

Detail oriented­.
Dental assistants must follow specific rules and protocols to help dentists treat a patient. Assistants must be aware of what practices they are allowed to do in the state where they work.

Interpersonal skills.
Dental assistants must work closely with dentists and patients. Sometimes patients are in extreme pain or mental stress, and the assistant must be sensitive to their emotions.

Listening skills.
Dental assistants must have good listening skills. They need to follow directions from a dentist or dental hygienist so they can help treat patients and do tasks such as taking an x-ray.

Organizational skills.
Dental assistants must have excellent organizational skills. They should have the correct tools in place for a dentist or dental hygienist to use when treating a patient.


How much do Dental Assistants earn?

Most Dental Assistants earn between $22,680 and $47,090 annually, according to the U.S. Labor Bureau. Median hourly earnings of dental assistants were $16.09 in 2010. Median annual wages were $33,470. This has increased since 2010. *


Where can a Dental Assistant work?

Dental Assistants can find employment with Dentists in private practice, with Dental Specialist and in oral health services within hospitals. Dental assistants held about 297,000 jobs in 2010. Many Dental Assistants worked in private Dental Practice. A few worked in physicians' offices or were employed by Federal, state or local governments.


How many hours a week do most Dental Assistants work?

Most Dental Assistants work, on average, 32-40 hours per week with excellent opportunities available for those only desiring to work part-time as well. Most dental assistants work full time. However, almost 2 in 5 assistants worked part time in 2010. Some may work evenings or weekends, depending on the hours of operation at the office where they work.


Can a Dental Assistant be female or male?

Thankfully, we live in a time where gender boundaries in career choices are melting away. Finally, society is shedding the stereotypes of male or female career roles. Although the majority of Dental Assistants are women, the past 10 years have seen an increase in the number of men entering the Dental Assisting field. It makes sense that men would make great dental assistants. It is a career with a broad range of opportunities, varying positions, and personal rewards to be enjoyed. Dental assisting is certainly a career where that contentment and employment can be found regardless of gender.


What is the job outlook for Dental Assistants?

Dental Assisting is one of the fastest growing healthcare careers. In fact, dental assisting is expected to be among the fastest-growing occupations in the nation over the 2010-2020 period with a 31% increase in employment opportunities anticipated. Some dental assistants become office managers, dental-assisting instructors, or dental product sales representatives. Some dental assistants become dental hygienists after going back to school. Further, job prospects for Dental Assistants are expected to be excellent for both full-time and part-time employment. As the large baby-boom population ages, and as people keep more of their original teeth than did previous generations, the need to maintain and treat teeth will continue to increase the need for Dental Assistants.


What are the educational requirements for a Dental Assistant?

The C.A.P. Stone Dental Assisting Program requires that all students complete an 8-week course. Our Program includes classroom and laboratory work in which students learn about teeth, gums, jaws, and other areas that dentists work on and the instruments that dentists use. Excellent programs also include supervised, practical experience. Upon satisfactory completion of all didactic, clinical and testing you will receive a Certificate in Dental Assisting from the C.A.P. Stone Dental Assisting Program.


Can I finance my Dental Assisting Program education?

Yes. The C.A.P. Stone Dental Assisting Program has uniquely teamed up with Care Credit allowing our students the opportunity to complete their Dental Assisting Certification and be able to repay their educational expenses in as little as 6- 12 months, interest free, or if needed, a repayment period of up to 60 months.


If I become a Dental Assistant, can I later become a Dental Hygienist?

Yes. After working as a Dental Assistant for two years in the state of Alabama, you may apply for admission into the Alabama Dental Hygiene Program. The ADHP is overseen by the Alabama Board of Dental Examiners. Upon satisfactory completion of the one-year ADHP program and upon receiving your Hygiene License, you are able to practice Dental Hygiene in the state of Alabama.



*Source: U.S. Department of Labor, Occupational Outlook Handbook, 2012-13 Edition