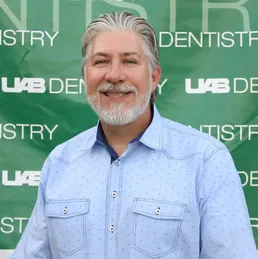 G. Robin Pruitt, Jr., D.M.D. - Clinical Consultant
During his years in practice, he has personally trained or directly overseen the training of hundreds of Dental Assistants. Several have gone on to become Dental Hygienists, Dental Office Managers or Dental Sales Representatives and Dentists. He has also personally educated and mentored dozens of future Doctors at the C.A.P. Stone Building through mentoring programs he has overseen. Dr. Pruitt has worked with and taught several present day Dentists using techniques that he has perfected over the years. His teaching of Doctors extends beyond Alabama and reaches into Guatemala and Nicaragua where he volunteers to provide surgical care to the impoverished in these countries and also provides direct instruction and training to Dentists and assistants, teaching current oral and maxillofacial surgical techniques currently used in the United States.

As Chief Operating Officer & Clinical Consultant for the C.A.P. Stone Dental Assisting Program, Dr. Pruitt brings together an incredible team of experienced and highly regarded Office Managers, Office Receptionists, Dental Hygienists and Dental Assistants to teach and educate those wanting to be proficient in all aspects of Dental Assisting. Dr. Pruitt is highly committed to dental education and has personally trained and received degrees, diplomas, certifications, memberships and
fellowships in Alabama, New York, Las Vegas and Miami.
Carson A. Pruitt, D.M.D. - Clinical Consultant

Dr. Carson A. Pruitt graduated from Auburn University with a B.S. in Biomedical Sciences and a minor in Business. He received his dental degree from The University of Alabama at Birmingham School of Dentistry, where he served as Vice President of his class all four years.

Dr. Pruitt was born and raised in Birmingham and currently resides in downtown Birmingham. He loves all of what the Birmingham area offers with incredible dining, entertainment venues, and top-of-the-line breweries. Dr. Pruitt is also a strong advocate of Auburn Athletics and enjoys attending every home football game he can make.

Dr. Pruitt's love of dentistry began when he was in middle school and traveled to Guatemala on a medical mission trip to provide dental care to underserved populations. He has since been on many more and plans to continue providing service work abroad and locally.

Dr. Pruitt offers years of clinical experience to the students of C.A.P. Stone Dental Assisting Program with first-class dental training and a great support system of doctors and staff.

---
Jessica M. Robertson, RDH, RDA, CDA, CPFDA, CRFDA - Program Director
Jessica M. Robertson graduated from C.A.P. Stone Dental Assisting Program in 2017 and has since been employed with Vestavia Family Dentistry & Facial Aesthetics. After several years of training and study, Jessica became triple board-certified through the Dental Assisting National Board as a Certified Dental Assistant, Certified Preventative Functions Dental Assistant, and Certified Restorative Functions Dental Assistant, as well as being licensed as a Registered Dental Assistant in Texas under the Texas State Board of Dental Examiners and in Tennessee under the Tennessee Board of Dentistry. She completed her training in Digital and Conventional Radiology at Louisiana State University Health School of Dentistry. In her free time, she is a member of 12 professional organizations and is actively pursuing her Fellowship with the American Academy For Oral & Systemic Health. In addition to Jessica's accomplishments in dental assisting, she is also a Registered Dental Hygienist in Alabama under the Board of Dental Examiners of Alabama, a Volunteer Dental Hygienist in Oklahoma under the Oklahoma Board of Dentistry, and a brand ambassador for both Cocofloss and Burst Oral Care. She frequently travels throughout the country attending continuing education courses, lectures, and seminars pertaining to both dentistry and facial aesthetics. There is nothing she enjoys more than utilizing her extensive knowledge of dentistry to help future dental assistants in their education.
WE ARE LICENSED BY THE
ALABAMA DEPARTMENT
OF POST-SECONDARY EDUCATION